Posts for tag: periodontal disease
By North Main Dental Inc
August 27, 2019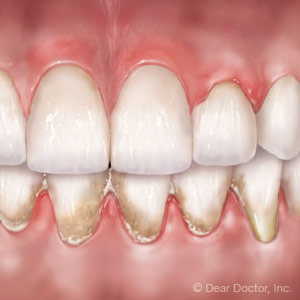 Periodontal (gum) disease, a bacterial infection caused by plaque, is one of the most prevalent and destructive dental conditions. Left untreated it can eventually lead to tooth and bone loss.
Although people are often unaware they have gum disease, there are a few warning signs to look for. Here are five gum disease signs that should prompt a dental visit.
Gum Swelling and Redness. Like all infections, gum disease triggers an immune system response that releases antibodies into the gums to attack the bacteria. The ensuing battle results in inflammation (swelling) and a darker redness to the gum tissues that don't lessen with time.
Gum Bleeding. It isn't normal for healthy gum tissue, which are quite resilient, to bleed. In a few cases, bleeding may indicate over-aggressive brushing, but more likely it means the tissues have weakened to such an extent by infection they bleed easily.
Tooth Sensitivity. If you notice a shot of pain when you eat or drink something hot or cold or when you bite down, this could mean infected gums have "drawn back" (receded) from the teeth. Gum recession exposes the tooth roots, which are more sensitive to temperature and pressure changes in the mouth.
An Abscess. As weakened gum tissues detach from the tooth, the normally thin gap between them and the tooth deepens to form a void known as a periodontal pocket. This often results in an abscess where pus collects in the pocket and causes it to appear more swollen and red than nearby tissues. An abscess needs immediate attention as bone loss is greatly accelerated compared to normal gum disease.
Tooth Looseness or Movement. As diseased gum tissue causes loss of gum and bone attachment, the affected teeth will start to feel loose or even move to a different position. This is a late and alarming sign of gum disease — without immediate intervention, you're in danger of losing the tooth.
If you encounter any of these signs, contact us for an examination as soon as possible. The sooner we can diagnose gum disease and begin treatment, the less damage it will cause — and the better your odds of regaining healthy teeth and gums.
If you would like more information on gum disease, please contact us to schedule an appointment for a consultation. You can also learn more about this topic by reading the Dear Doctor magazine article "Warning Signs of Periodontal (Gum) Disease."
By North Main Dental Inc
January 24, 2018
Despite progress in the fight against periodontal disease, millions of American adults are still at risk for gum disease and tooth loss. Over
170 million American adults over the age of 30 are missing at least one tooth, and approximately 40 million are missing all of their natural teeth. The good news is that thanks to greater awareness, preventive care, and advancements in dental technology and procedures, more and more Americans are keeping more of their natural teeth well into old age than ever before. The dentists at North Main Dental Inc. in Dayton, OH, offer comprehensive prevention and treatment options for every stage of gum disease.
Gum Disease Prevention and Treatment in Dayton, OH
Like most oral health problems, the fight against gum disease begins in your own home. Although some people are more at risk than others due to factors such as lifestyle, diet, and genetics, practicing good oral hygiene and preventive dental care is the first line of defense against periodontal disease and tooth loss at any age.
What is Periodontal Disease Therapy and How Does it Work?
There are several stages of gum disease, ranging from mild (gingivitis) to severe (periodontitis). If left untreated, gum disease typically gets worse over time and may ultimately result in tooth loss and other complications. The first step in protecting your oral health and managing gum disease is to practice good oral hygiene at home, and to visit the dentist every six months for a check up and dental cleaning.
If you are suffering from gum disease, there are several treatment options available depending on the severity and extent of damage to your gums:
Scaling and Root Planing - A deep cleaning treatment that removes plaque and tartar buildup from the areas below your gums where a tooth brush and floss can't reach
Periodontal Laser Treatment - In some cases gum tissue may become so damaged that it needs to be removed. Laser therapy can be less invasive and minimize side effects from traditional gum surgery.
Gum Grafting - If your gums have receded due to gum disease, a gum graft may be necessary to help protect exposed areas of the tooth or root.
Dental Implants - Implants replace the root as well as the crown of a missing tooth.
Find a Dentist in Dayton, OH
Don't let gum disease ruin your smile and your oral health. For more information about prevention and treatment options, call North Main Dental Inc. at (937) 275-0076 to schedule an appointment today.
By North Main Dental Inc
April 09, 2017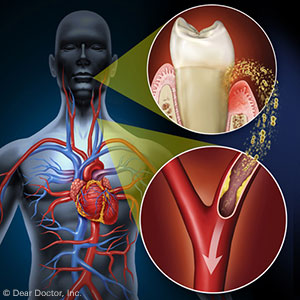 If you have periodontal (gum) disease, it's important for you to know its effects aren't limited to your mouth. A number of studies demonstrate gum disease can affect the rest of your body — and what may be going on elsewhere could likewise stimulate gum disease.
Here are 3 diseases or conditions that seem to share a link with gum disease.
Diabetes. This chronic disease results from the body's inability to interact properly with insulin, the hormone necessary for turning glucose (sugar) into energy, or producing enough of it. There's clear evidence that having diabetes increases your risk of gum disease and vice-versa. If you have diabetes, it's important that you keep it under control for your gum's sake as much as for your overall health.
Cardiovascular disease. Like diabetes, this group of heart and blood vessel diseases has a related characteristic with gum disease: inflammation. This natural function of the immune system limits tissue damage caused by disease or injury. But in both CVD and gum disease, inflammation can become chronic and itself cause damage. Further, some types of bacteria associated with gum disease can contribute to a higher risk of CVD. Minimizing gum disease occurrence with good oral hygiene could positively impact your risk of CVD.
Pregnancy. While certainly not a disease, pregnancy does trigger hormonal changes in the mother that in turn could elevate her risk of gum disease, particularly pregnancy gingivitis. Not only does this pose problems for the mother's teeth and gums, some studies connect gum disease to the increased possibility of early, pre-term birth. A sharper focus on dental care during pregnancy not only benefits the mother but may also be important for the health of the baby.
These aren't the only conditions that can be affected by gum disease: others like osteoporosis, respiratory disease or rheumatoid arthritis also share links with the disease. If you have any systemic condition like these, it pays to be extra vigilant in preventing and treating gum disease.
If you would like more information on periodontal (gum) disease, please contact us or schedule an appointment for a consultation. You can also learn more about this topic by reading the Dear Doctor magazine article "Good Oral Health Leads to Better Health Overall."